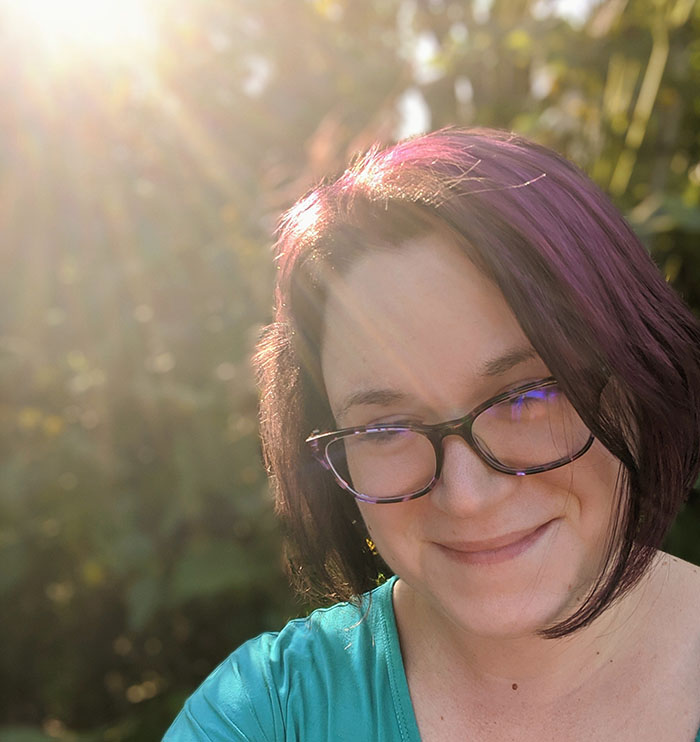 Caitlin Archer-Helke
MA in Spanish and MSLIS, University of Illinois at Urbana-Champaign
User Support Librarian
Saint Xavier University
What are your main duties at your library?
I do a little of everything! Some of my major duties include reference, instruction, collection development, and outreach.
What do you like best about your job?
The students! Working with students, and knowing that I have had even a small hand in their successes, is a wonderful feeling.
What are you working on now that you're excited about?
I'm really excited for a few things this term. I'm building tailored instructional material for some of my faculty, which can be pretty fun. I work with our education department to build a better education collection, putting a lot of emphasis on our youth literature collection—which turns out to get heavy use from our speech and language disorders students as well. And, finally, I'm playing around with different types of outreach to try to make up, a little, for the lack of in-person events right now.
Why did you decide to become a librarian?
I was on track to get a PhD in Spanish literature but I hated teaching grammar. Hated it! On the other hand, I had always enjoyed doing people's research and being the family fact-checker at holiday meals (always a popular position). Sliding into libraries felt like a natural fit, and allowed me to continue to work with the public, which is something I've always loved.
What does librarianship mean to you?
Librarianship is, I think, fundamentally about connections with one's community and about equity of access. And one cannot build to equity of access without also building those connections and partnerships, which are such a joy to form.
What do you think is the most important challenge or opportunity for libraries going forward?
White supremacy is our biggest challenge—it influences so much, from materials to the ways in which our information is findable. And antiracism is our biggest opportunity, if we are able to do the constant work of it.
Describe yourself in three words.
Tenacious, curious, analytical.
What are you reading, watching, or listening to right now?
I always read way too many books at once, and right now I'm working on Nina MacLaughlin's Wake, Siren, two different young adult novels, and Alyssa Cole's A Princess in Theory. I've been watching, rather slowly, Barkskins, which is based on a novel that I have not read.
What are your hobbies?
Reading, walking, looking up obscure information, and knitting.
Tell us a fun fact about yourself.
I learned to cross-country ski at the same time as I learned to walk.
---
Any LIBRAS member may nominate another member to be featured in the LIBRAS Member Spotlight. To nominate a colleague, please submit the LIBRAS Member Spotlight Nomination Form.